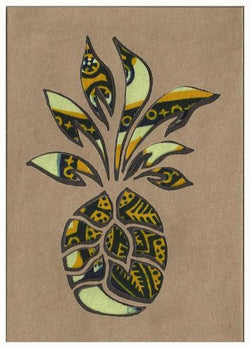 Card: #9136 Pineapple
Each card is made with Kitenge, an African garment similar to sarong which is often worn by women wrapped around the chest or waist, over the head as a headscarf, or as a baby sling. Dimensions: 4" x 6" 

Pineapple Card - Proverb on the back: "Hem your blessings with thankfulness so they do not unravel." -African proverb
Cards are brown, envelopes are white, and colorful fabric will vary!