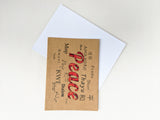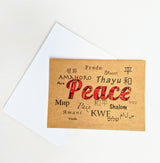 Card: #9163 Christmas Peace (English)
 Each card is made with a variety of colorful kitenge, an African garment similar to sarong which is often worn by women wrapped around the chest or waist, over the head as a headscarf, or as a baby sling. Dimensions: 5" x 7"
Amani/Peace Card -
Front design: Peace in many Languages!
Inner Design: Blank
Proverb on the back: "Understanding attracts peace, it brings near that which is far" - Swahili Proverb
These cards are made by one of our partners, Tunajenga (Swahili for "we are building"), an organization for African men.
*Due to the handcrafted nature of the product, fabric pattern placement will vary