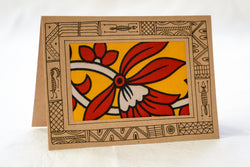 Card: #9123 Kanga Frame
Each card is handcrafted with African Kitenge fabric. In Africa, the fabric is selected based on mood, context, and feelings to express the emotions of the moment. Each Tunajenga card comes with the same message of greetings and well wishes. 
White envelopes included
Blank inside 

Dimensions: 5″ x 7″
The proverb on the back will vary. 
*Due to the handmade nature of this product, the fabric pattern placement will vary